http://hosted.ap.org/dynamic/stories/P/PATENT_REFORM_UNIONS?SITE=VASTR


Unions pounce on patent reform


By CHRISTOPHER S. RUGABER


AP Business Writer


WASHINGTON (AP) -- The battle over patent reform, a sleepy sounding subject that affects new, cheaper medicines, Chinese counterfeits and BlackBerry addicts, has always sent high-tech companies and drugmakers to their respective corners.


But now organized labor is getting in the fight, using its lobbying muscle to stop - or at least shape - proposed changes to patent law.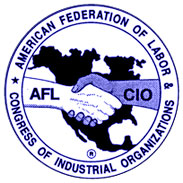 Spurred by concern of overseas piracy of U.S. goods, unions have stepped up their opposition to patent reform legislation pending in the Senate. [A copy of the fax sent by these unions to the U.S. Senate is accessible at: http://anticipatethis.files.wordpress.com/2008/02/fax-from-union-on-patent-reform-2007.pdf .


The AFL-CIO and the Change to Win coalition, a group of seven unions that includes the Teamsters, [ http://www.changetowin.org/ ] argued in separate letters recently that proposed reforms to the patent system would make it easier for competitors in China and India to counterfeit U.S. products and send more U.S jobs overseas.


Labor's opposition puts Senate Democrats who support the measure in a tight spot. Patent reform is a top priority for another Democratic constituency: high-tech companies such as Hewlett-Packard Co. and Cisco Systems Inc.


The patent bill, sponsored by Sens. Patrick Leahy, D-Vt., and Orrin Hatch, R-Utah, would make the first significant changes to the U.S. patent system in more than 55 years. It has deeply split the business community and ignited intense lobbying.

Computer and Internet companies gave $1.3 million, 57 percent of their total federal contributions, to Democratic candidates in 2007-2008, according to the Center for Responsive Politics. Their contributions are dwarfed by organized labor, which has given more than $24 million in the same period, 90 percent to Democratic candidates.


Labor's opposition has "captured lawmakers' attention," said Robert Lindefjeld, a patent attorney at Jones Day, because they have demonstrated a link between the otherwise complex and obscure issue of patent reform and jobs. In an effort to placate unions and other opponents, Leahy and other senators are scrambling for a compromise.


A Senate aide, who requested anonymity, said, "There's a lot of interest groups involved ... It's difficult to address everyone's concerns so that they're 100 percent happy with the outcome."


The compromise proposal could be released as soon as this week, several lobbyists said. The House approved its version of the bill last September.


One of the most contentious issue is the calculation of damages in patent infringement suits. High-tech companies, whose products may include hundreds of patented parts, want awards more closely tied to the specific patent that was infringed, rather than to the entire value of the product.


Opponents say that would reduce damage awards and make it easier to infringe patents. One possible compromise in the works would give judges more discretion to provide guidance to juries on calculating damages.


The unions oppose the current damages provision and a measure that would require the publication of patent applications within 18 months of submission, which they fear would make it easier for overseas competitors to copy U.S. inventions.



They received an unlikely boost last fall when a Chinese official, Yongshun Chen, a former judge, was quoted in the Chinese press as saying reform legislation "favors the infringers and burdens patentees more." [This letter is accessible at:

http://infringement.blogs.com/philip_brooks_patent_infr/files/patent_reform_article_china_intellectual_property_news.pdf

An excerpt from the letter states the following:

[I]n general the bill favors infringers and burdens patentees more. It is not bad news for developing countries which have lower technological development and relatively fewer patents. Due to the weak foundation of patents, the Chinese products often encounter trouble in the U.S. market. This bill will provide more mechanisms and flexibilities in making patent challenge strategies, and also lower the cost of infringement, therefore the infringement will become easier. . . .]


Bob Baugh, executive director of the AFL-CIO's industrial unions council, said Chen's comments "confirmed suspicions" that the legislation would lead to more counterfeiting of U.S. goods.


U.S. manufacturers have long complained about counterfeit auto parts and other manufactured goods from China. The Bush administration filed a complaint last year at the World Trade Organization charging China with lax enforcement of intellectual property rights.


In a statement last month, the AFL-CIO's executive council said it is "ironic that, at a time when our nation is pressing China to upgrade its protection of intellectual property ... the United States would actively consider steps that could undermine the effectiveness of our patent protections."


Supporters of the bill, however, say they are confident that unions' concerns will be addressed and that the Senate will vote on a compromise bill this month or next.


Mark Holston, Hewlett-Packard's general counsel, said Tuesday the company is one of the largest U.S. patent holders and wouldn't support legislation that weakens patent protection.


Baugh and other union representatives say they will reserve final judgment until they see the compromise.



"We look forward to taking a close look at the new bill and working with Sen. Leahy to ensure that our concerns ... are addressed," Jim Hoffa, general president of the Teamsters, said in an e-mailed statement.


© 2008 The Associated Press. All rights reserved.